Every so often someone sneaks a photo of me. As with many photographers, I'm terribly non-photogenic, so I kinda like it when someone candidly catches me at work in the field. Here I am at exquisite Lake Louise in Alberta, Canada, in a position I often find myself, contorted over a must-have image. In this case the pickings were slim, as it was a cold, rainy, overcast day. I wasn't even going to bother with a picture. I don't particularly like Lake Louise for the huge crowds it draws in summer. Just then the sun tried to break through (it never really did), and I quickly got to work.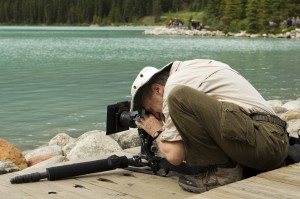 Lucky for me, Bruno and Angie Stadelmann from Riehen, Switzerland were passing by. Bruno is an avid amateur photographer and, unbeknownst to me, grabbed this shot. Thanks, Bruno!
(BTW, here is one of the images that I was taking when Bruno wandered by. It will be one of several images that I may combine into a panorama. With the lousy weather, however, there are absolutely no reflections in the water, so I may just can the whole thing. Stay tuned).