Folks, I've been saying it for years and now it's official:
AIR CANADA VOTED TOP HONOURS BY READERS OF BUSINESS TRAVELER MAGAZINE
Best Flight Attendants in North America
Best In-Flight Services in North America
Best North American Airline for Business Class Service
Best North American Airline for International Travel
Best Airline Web Site
I'm not professing to know about business travel, since I fly cattle-car within North American destinations. But I have been saying in my blogs that even in Economy, it's hard to beat Air Canada.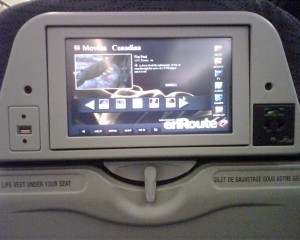 Air Canada seat-back unit (file photo)
One of my favorite features is that there is a 120-volt outlet at every seat, as well as a USB port and terrific touch-screen entertainment system. Plug in, stick in your earbuds, turn on the music (or movie)  and you can either relax or get substantial work done with no hassles. They also really, truly have flight attendants who are attendant!
Anyway, congrats Air Canada on a recognition that is well deserved.