A hearty congratulations to Barry and Gill in England, one of two winners of my free photo giveaway last month. Here are two photos that Barry took of the framed image, hanging in their lounge.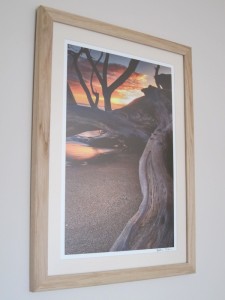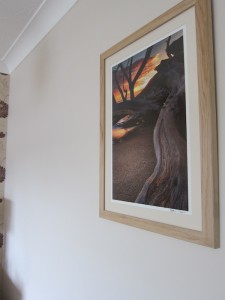 Gill gave us a heads-up on the process:
"I was given the task of choosing one of your prints, which I have to say was very hard, far too much choice. I managed to break it down to a seascape, the Hawaii sunset took it. It makes a change from looking out of our window at the British summer ha, ha.

"From there I went with what I felt would look the best in our lounge. The colours and lighting compliment our colour schemes, and the print now has pride of place on the wall.

"It also took a bit of time to pick the right frame, which is real Oak , (not often found here in the UK), and hopefully have done your fab photo justice."
Thanks for the update, Gill, and Barry for the photos. May the image adorn your abode for many years to come and may you both enjoy it in good health!
Best Wishes,
Les