Sad to say, our flight to Tuktoyaktuk was cancelled. We waited for the skies to clear from 8:30 AM to 1:30 PM. First we were delayed by heavy fog in Inuvik. Then it was 30 mph winds and rain in Tuk. At 1:30 the Aklak Air service agent came out to tell us we were last Saturday's dinner.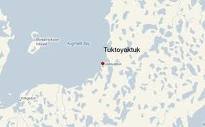 We weren't able to reschedule due to a lack of seats on the next day's flights so, reluctantly we left the airport knowing that our dip in the frigid waters of the Arctic Ocean will remain on my bucket list. Note I say "my" bucket list. I think my friends are somewhat relieved… okay, very relieved.
In an attempt to make lemonade, the cancellation will give us more time on the Dempster Highway as we drive back to Dawson City and then on to Whitehorse. On the way up here we did manage to see a juvenile grizzly walking down the road, but no caribou… yet. Hopefully the weather will be more cooperative for landscape and wildlife photography.
Hope you are all having a good end to summer.