I'm sitting in the Eagle Plains Hotel and Restaurant lobby as I create this blog. After our disappointment regarding Tuktoyaktuk, we headed back south toward Dawson City. Our group was excited to see three very large grizzlies, including one male that was about the biggest grizzly I've ever seen. We also saw seven caribou. All in all it was quite a trip segment.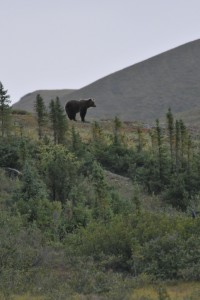 The skies continue to plague us, although we did get a sustained sunny period en route here.  The tundra is an incredible sight when the sun plays on the golden shrubs, grasses and lichens. The land is so vast and the gentle mountains add texture to the magical landscapes.
We will continue south all day tomorrow, covering perhaps 150 miles, if we are lucky and the good weather holds. Driving on the Dempster is difficult, with its many potholes and ridges and one needs to slow down whenever a vehicle approaches from the opposite direction so as to minimize rock damage to windshields. Fortunately, we pass very few vehicles. One one stretch last night we drove for 4 hours and did not pass one vehicle. We stopped at a pullout and spent the night. Sleeping was tough since it was still light outside at midnight. Such is life in the far north.
More to come.
Les