If you've been following my travels on my SPOT site, you'll notice that I left late because I had to do some errands in Whitehorse before Richard Hartmier and I left for Haines, Alaska for bear-gorging-on-salmon photographs. We arrived in time for lunch in Haines Junction, Yukon and planned to scout around for some good images at the entrance to Kluane National Park, but the weather continues to be uncooperative- low light and dull clouds. We did make good use of the time, though, by visiting some of Richard's friends who own an adventure outfitting company.
We did manage to find a hidden jewel of a restaurant in Haines Junction called Backerei Cafe, offering organic foods, scrumptious pastries and fresh roasted coffee and specialty teas, a bit of a surprise for such a tiny outpost. Co-owner Jonathon Petersson has put together a menu to fit all palates, from elk burgers to veggie burgers. The menu varies day-to-day. The unassuming restaurant is attached to the Alcan Motor Inn.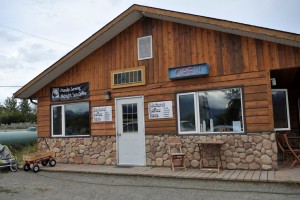 Tomorrow starts three days of shooting, rain or shine. Stay tuned.