If you're a photographer, listen up! Do I have a deal for you!!
To help celebrate Photographers' Month at my favorite outdoor clothing website— ScotteVest — I'm giving away a brand new Classic ScotteVest to one of our blog visitors! Just be sure to enter by February 29. Winners will be announced on March 1.
UPDATE: The contest is ending soon, folks, so enter your best few images ASAP! There are two main prizes (and who knows what else might be in store for you brave entrants?).
The Classic ScotteVest
Why should you want to win this contest? Simply because, in my opinion (humble or otherwise), the Classic ScotteVest is… well, a classic. It has 22 pockets—  count 'em— with features that never cease to amaze me. There are pockets for my iPhone, point-and-shoot camera, water bottle, sunglasses, pens and passport, even an iPad!
I've owned one of these puppies for years and it allows me to breeze through airport security. And here is a little secret; I get to shed about five pounds of technology from my suitcase so I don't get charged $100 extra (round trip, of course… what a bargain!). The vest is so well balanced I hardly feel it and ScotteVest's "No Bulge" system keeps everything out of site. Plus, I get to have all my essentials with me.
The vest sells for $100 online. The winner of my contest will have his or her choice of color and size. Check out the men's vest and the women's vest.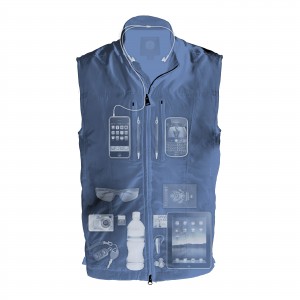 How to Enter
Entering is simple. Just post a comment at the end of this blog, any comment at all, even one word and do it by February 29. Next, click on the Facebook "Share" button at the bottom  of the page and that's it. You will automatically be registered for the contest!
I'll draw a name at random from those who commented and hit the Facebook "Share" button and will notify the winner during the first week of March. We will also announce the winner on my blog home page.
Claiming Your Prize
When I notify the winner, I'll send along a unique code to insert when placing the order at ScotteVest. That's it!
And One More Thing
As if the giveaway weren't enough, I'm also giving all my readers a big win. How about a 15% discount on any ScotteVest order? Just use the code: LESPICKER15 at the ScotteVest site when you check out. Who says visiting my blog site doesn't pay?
Disclaimer
I make no bones about, I'm proud to be the ScotteVest photography columnist on their website. I make no money on anything sold by ScotteVest. I collaborate with them simply because I believe in their products and use their clothing every time I take a photo trip (actually, I also wear their Hoodie at home on chilly days). I was a customer of theirs long before I agreed to do a photography column for them. I do get to test out some of their gear. It's not only some of the best made outdoor clothing I have ever used, but it's THE most thoughtfully made. 'Nuf said.