And what a journey it's been! From the time I left BWI airport until I checked into my hotel in Sri Lanka, 31 hours had elapsed; 34 hours bed to bed. That is one l-o-n-g trip. The only saving grace was that Emirate Airlines was wonderful, with attentive service even in economy. My longest flight segment, 12-1/2 hours, was only 1/2 full, so I was able to sleep on and off, something I'm rarely able to accomplish in the air unless I get lucky and land a business class upgrade.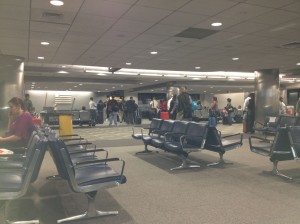 I left Baltimore just four days after returning from Israel with a very bad cough and congestion. In retrospect, I probably should have cancelled the Sri Lanka trip because I was absolutely miserable on the trip. Understandably, two people in nearby seats asked to have their seats changed due to my incessant coughing.
My flight included a layover in Dubai, but the desert sands gave us only a brown-fog view of its immense structures. The airport in Dubai is state-of-the-art modern, with the stores crowded so close together it gives one the feeling of a souk.
I arrived in Columbo, Sri Lanka exhausted. The temperature today was 88F and very humid, with the sun so strong I could hardly stay under it for more than a few minutes at a time. Hopefully, it will do wonders for my cough. In any event, the adventure begins.