My plane landed in Reykjavik, Iceland, just as the sun was rising, warming the wingtip of my plane and bluing up the skies for which Iceland is famous. I figured it was a wonderful omen for my upcoming 16 days of glorious Icelandic photography.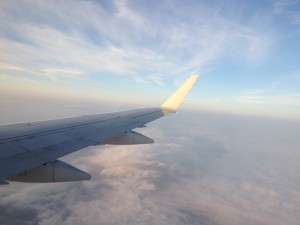 WRONG!
I deplaned, went through a police check and sleepily dragged my butt onto a shuttle to the baggage claim area (prior to a customs check). At the carousel I waited and waited as my fellow happy passengers retrieved their bags and sauntered outside. As for me… no luggage! It's a Saturday morning and while inconvenient and a blow to my photography assignment, I figured, okay, I can deal with this for a day. But, no, it turns out that the next plane from Toronto does not arrive until Monday! Major bummer.
My photo colleague, Richard Hartmier, and I could not do much all day because my jacket, warm clothes, tripod and several key pieces of my equipment are in my two checked bags. It is beautiful today, with clear, blue skies, but it is also cold and very windy, so I could not tolerate being outdoors for more than a few minutes at a time. And without a tripod, a shivering landscape photographer is pretty much dead in the water.
So, here I am, one very frustrated photographer, still waiting to tackle Iceland's spectacular landscapes.