As of 4:00 PM today we had to evacuate our home, one of the perils of living on the water's edge. As it turns out our tiny, historic town of Havre de Grace, Maryland is directly in line of the worst of the storm (as of 6:30PM according to the New York Times). The winds here are already ferocious and are predicted to double as the center of the storm passes during the night.
My main concern at the moment is high tide, when the waters of the mighty, wind-whipped Susquehanna River meet the incoming tide running up the Chesapeake Bay. Unfortunately this time- but fortunately the other 99.99% of the time- we live at the confluence of both bodies of water. We expect to be flooded. Our hope is that it stays below 24" in our garage.
This is an iPhone image taken from my deck a couple of hours before we left and it doesn't look too terribly bad.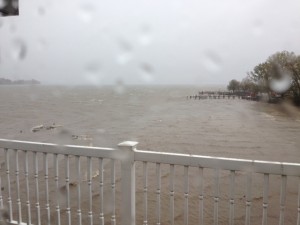 By now we envision roof tiles ripped off and the waters rising. Oh, well.
I'll get some images when we return, hopefully to a nice, dry home! Stay posted.