Admittedly I have arthritis in a fairly big way, mostly in my back and neck. I like to think that it's the result of having been stupid enough to play football in high school when I weighed 150 pounds soaking wet and my team's offensive line averaged 205 pounds (with me on it)! But, as my wife keeps pointing out, I can hardly blame that anymore.
Here you can see the REAL reason for my back woes.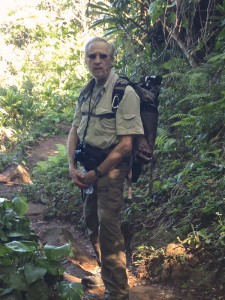 We were hiking in Kipahulu, Maui when she snapped this photo. Thank God for LowePro's terrific backpack, which serves to distribute the weight as best it can. But I'm packing 30-35 pounds of gear, PLUS my Gitzo 3541 tripod and RRS BH-55 ballhead which together weigh an additional 8 pounds. We hiked four very rugged miles that morning, before doing another strenuous hike later that day.
Here I am going down a trail, so you can get a better view of the pack.
In it I have two camera systems, each with a body and 2-3 lenses, plus filters, cleaning gear, storage cards, and assorted gizmos. Plus critically important snacks. The LowePro Trekker AW400 has a water bladder right inside the pack, making it ideal for trekking, although once in the Yukon in winter it ended up being an ice bladder.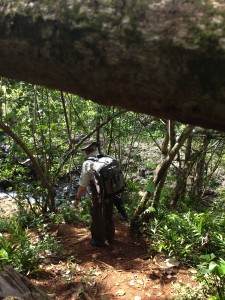 http://blog.lesterpickerphoto.com/wp-content/uploads/2013/03/IMG_11522.jpg
My point here is that nature photography is much more than a camera and lens, especially at my age. I probably own more backpacks and cases than Imelda Marcus had shoes. But I consider them a critical investment in myself. After hours of hiking my back may be a little sore, but it's still functional, so long as I have a solid pack that is distributed well. I am also a bug on strap adjustments and regularly empty my pack when I arrive home, clean it out and remount it on my back empty so I can check the straps and adjust them for even placement.
Of course, what I'm really hoping for is an eager assistant who would be willing to carry my pack for me. Dream on, right?