I attended a wonderful- and rather unique-  family event last night in downtown Denver. It was held in the iconic Clock Tower building and stretched over the four top floors in the building. Each floor had its own food offerings, plus dancing on one floor and a spectacular panoramic view of the Denver skyline from a parapet that wound around the 20th floor.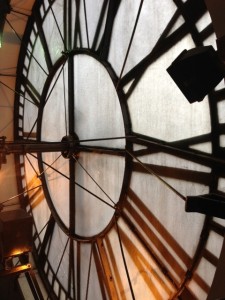 Shortly after we arrived, my sister-in-law, Ruth, took out her iPhone and snapped this lovely image of the clock, from the inside of the building's 18th floor. I was so impressed by this image for several reasons, but what it brought home to me in spades is how the creative eye trumps megapixels any day of the week.
It's a strong composition, like bold paint strokes. The cut-off clock gives us a feel for the size (taller than two people atop one another). The color is nicely rendered and the contrast is perfect.